Lonsdale Ragg was born on 23 October 1866 in Wellington in Shropshire. He was the son of Thomas Ragg (1808-1881), who had just been appointed curate of the newly formed parish of Lawley.
Ragg was educated at Christ Church, Oxford (B.A. 1889, M.A. 1892, B.D. 1905) and at Cuddesdon Theological College.
In 1902, Lonsdale Ragg married Laura Maria Roberts (1865-1962).
The couple had one child: Laura Beatrice Vittoria, born in 1907 presumably in Venice; Lady Layard was her godmother, Horatio Brown her godfather. Beatrice Ragg married Denis Beardoe Grundy in 1930. She died in 1963.
The following details of Lonsdale Ragg's career come partly from Crockford's Clerical Directory 1911 and 1938, partly from Who was Who vol. IV.
1890: curate of All Saints, Oxford
1891-1895: tutor and lecturer at Christ Church, Oxford
1895-1898: vice-principal of Cuddesdon Theological College
1899-1903: warden of the Bishop's Hostel, Lincoln, and vice-chancellor of Lincoln Cathedral
1904-1905: chaplain at Bologna
1905-1909: chaplain at Venice
1909-1912: rector of Tickencote, Rutland
1913-1915: diocesan inspector for the Archdeaconry of Northampton
1917-1922: warden of Bangor and St Asaph, Clerical Education Society, and examining chaplain to the bishops of Bangor and St Asaph
1922-1924: diocesan missioner for the Diocese of Oxford
1924-1930: chaplain at Rome
1930-1931: chaplain at Valescure, Côte d'Azur
1933-1934: chaplain at Bordighera, Liguria


1934-1945: archdeacon of Gibraltar

1936-1937: chaplain at Cannes, Côte d'Azur

Venice. For information on St George's Anglican Church in Venice, click here.
In Venice, the Raggs would have lived in Palazzo Contarini Corfù. For more information on the Contarini palaces in San Trovaso, click here.

In the autumn of 1908, the Raggs met Frederick Rolfe, self-styled Baron Corvo. They had moved from their unheated apartment to Hôtel Belle Vue et de Russie next to the Clock Tower at Piazza San Marco, where Rolfe was staying. At first, Lonsdale Ragg was sympathetic towards Rolfe, and tried patiently to find help for his constant financial problems. Laura Ragg, on the other hand, quickly developed an antipathy towards their eccentric fellow-countryman.
Frederick Rolfe's The Desire and Pursuit of the Whole is an autobiographical novel set in Venice. Many characters are based on British residents, the Raggs among them, who are mercilessly lampooned. In Rolfe's manuscript, Lonsdale and Laura Ragg were called Londonderry and Lauretta Bagge, but this was changed to Exeter and Emily Warden when the book was finally published in 1934, more than twenty years after Rolfe's death.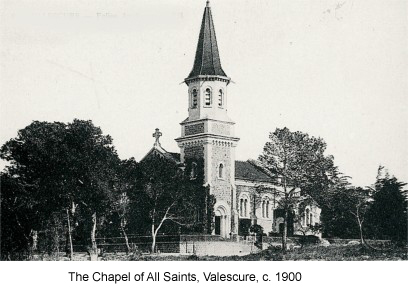 Valescure. The Anglican chapel of All Saints was established in Valescure (in the commune of Saint Raphalël) in 1900. This was in order to serve the needs of English visitors who came to this part of the French Riviera for the winter season.
Because of the lack of an Anglican congregation in the 1950s, the chapel was ceded to the French Catholic Diocese of Fréjus-Toulon in 1958, and is now called the Chapelle de Tous les Saints with services every Sunday all the year round.
In 1907, the church of St John the Evangelist had been established nearer the coast, and it has subsequently been expanded. The church is still very active. I am indebted to the Church Council of St John the Evangelist in Saint Raphaël for much interesting information and for permission to publish this picture. They have a website: www.sjevar.com .
Lonsdale Ragg was the chaplain in Valescure during the season of 1930-1931. He expressed his interest in having the chaplaincy also the following year, but, probably for financial reasons, this was not to be. One of the drawings below is from Valescure.

Some of Lonsdale Ragg's books:

Ragg also made illustrations for books by other authors. He was the editor of The Tree Lover, a quarterly magazine, 1932-1945. He was a member of the Men of Trees group, later to become the International Tree Foundation.
Ragg was well-known for his interest in trees. He held lectures on the subject, and his beautiful drawings of tree-life were exhibited. The Bath Chronicle and Weekly Gazette of 8 July 1939 reports that one of Ragg's sketches, which was on view at Walker's Galleries in London, had been purchased by Queen Mary.
According to The London Gazette of 25 June 1943, Archdeacon Lonsdale Ragg, D.D., was appointed as Chaplain to the Venerable Order of the Hospital of St John of Jerusalem.
Lonsdale Ragg died in Bath on 31 July 1945.