THE PIRAEUS LION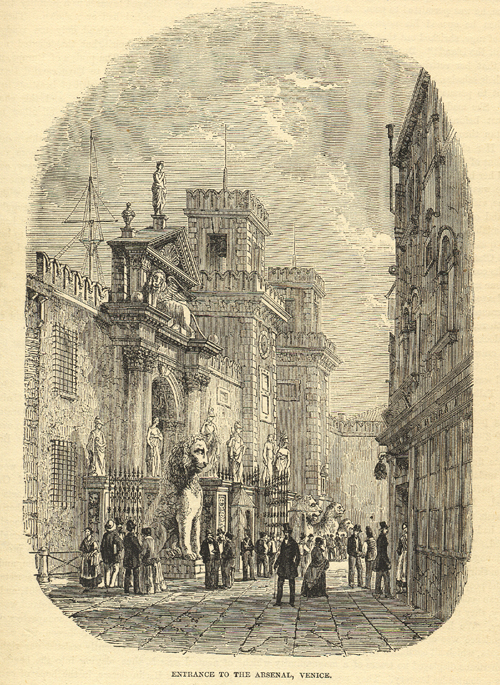 Entrance to the Arsenal, Venice
Steel engraving, published c. 1880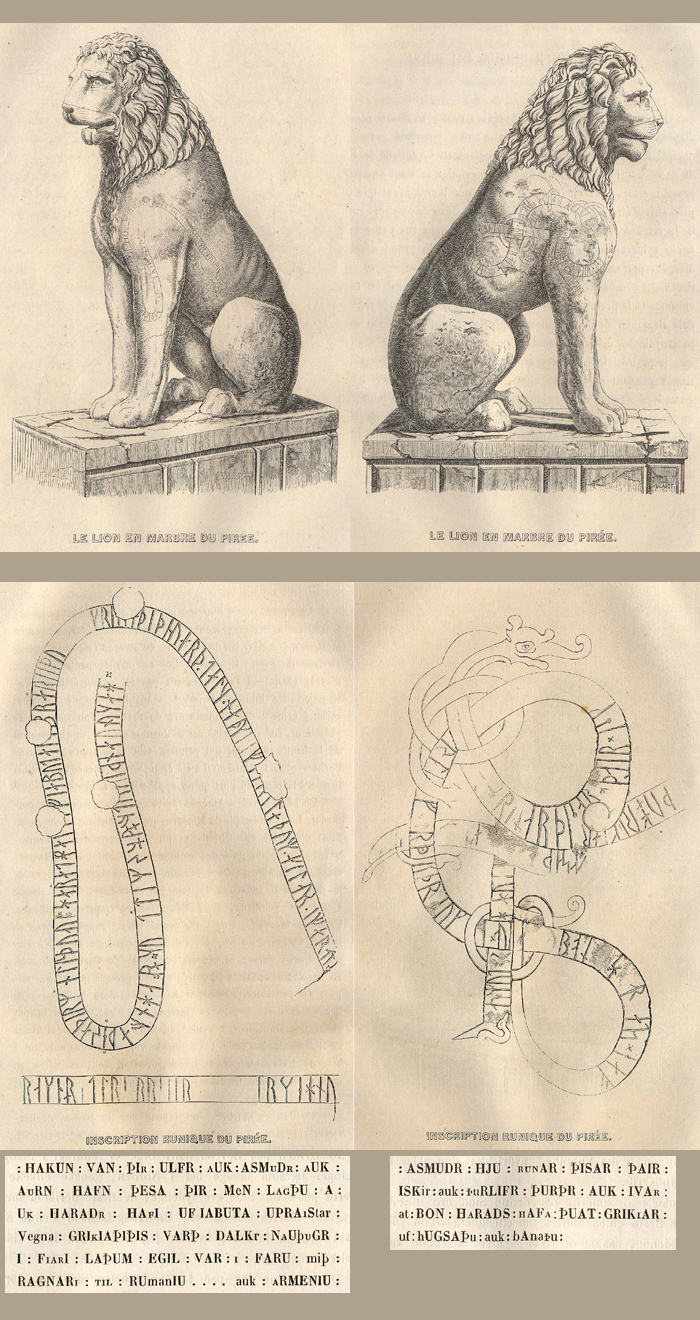 The runic inscription on the sitting lion from Piraeus


From C[arl] C[hristian] Rafn, Antiquités de l'Orient. monuments runographiques,
published by la Société royale des antiquaires du Nord, Copenhagen, 1856

In Semele, Mereweather gives Rafn's interpretation of the runes: "I read in a Vienna journal, that a certain Professor E. E. Rafn of that city [C. C. Rafn of Copenhagen] has managed to decipher these mysterious characters, which he considers, from the proper names, to be a language used by the Varangian adventurers. He translates them thus: 'Hakon, unitedly with Ulf, Asmund, and Oern, conquered this port. These men, and Harold the Great (or Tall), on account of the insurrection of the Greek people, imposed upon the inhabitants heavy pecuniary fines. Daik [Dalk] remained a prisoner in remote regions; Egil and Raguar [Ragnar] were detained under surveillance [in campaign] in Rumenia . . . and Armenia. . . . Asmund engraved these runes unitedly with Asgeir, Thorleif, Thord, and Ivar, at the request of Harold the Great, although the Greeks, when they come to think of it, forbid it.'" (Semele, p. 67, footnote)

Other scholars, e.g. Erik Brate in 1913, have put forward their interpretations of the inscriptions.

The runic carvings would have been made in the 11th century (when the lion was already some 1500 years old). The carvers were Varangians, Scandinavian mercenaries, probably from the east of Sweden, in the service of the Byzantine Emperor.

During several visits to Venice in 2009-2013, Dr

Thorgunn Snædal of

The

Swedish National Heritage Board made thorough studies of the inscriptions. Her research findings are published, in Swedish, in Runinskrifterna på Pireuslejonet i Venedig, Stockholm, 2014.



---